FORGINGS TODAY was launched in 2011 soon after the Certificate of Registration bearing No DELENG/2011/40012 was issued by Office of the Registrar of Newspapers for India, Government of India. It is a bimonthly magazine published from New Delhi. Forgings Today is priced at Rs 50 per copy with annual subscription being Rs 300 including all costs of distribution.
Readership Profile
FORGINGS TODAY has readership base of more than 5000 engineers and senior management executives belonging to the leading engineering units categorized as follows:
Forging units located all over India numbering around 700
Die fitters and die cutting tool manufacturers
Machinery manufacturers like forging presses, forging finishing machines, CNC machine tools, SPMs, grinding machines
Heat treatment and induction heating equipment manufacturers
Testing, marking and calibration equipment manufacturers
Vibration control, surface finishing, shot blasting and environment control equipment producers
Material suppliers to forging sector like heat treatment salts, quenching media, lubricants and other consumables
Alloy steel and other raw material manufacturers and importers
Automobiles, auto components and garage equipment manufacturers and importers
Service providers to forging sector including consultants and technology experts
Exhibitions and Events Coverage
FORGINGS TODAY has promoted and serviced a large number of exhibitions and conferences as Media Partner which include:
• International Forging Congress 2011, Int. Convention Center, Hyderabad
• Baghdad Auto Show 2012, International Fair Ground, Baghdad
• China International Forging Summit 2012, Beijing Marriott, Beijing
• Erbil Auto Show 2013, International Fair Ground, Erbil, Iraq
• CII AutoMach 2013, Pragati Maidan, New Delhi
• ACMA Automechanika 2013, Pragati Maidan, New Delhi
• International Engineering and Technology Fair 2013, Pragati Maidan, New Delhi
• ForgeFair2013, Columbus, Ohio, USA
• Heat Treat and Surface Engineering Conference and Expo 2013, Chennai
• Hannover Messe Industrial Supply India 2013, Pragati Maidan, New Delhi
• Korea Metal Week 2013-Press and Forging, Kintex, S. Korea
• International Forging Congress, Porto Alegre/RS, Brazil
• China Forging Industry Exhibition 2013, China Int. Exhibition Centre, Beijing
• IMEX 2014, Pragati Maidan, New Delhi
• EMAT 2014, Auto Cluster Exhibition Centre, Pune
• MMMM 2014, Pragati Maidan New Delhi
• International Forging Congress 2014, Berlin
• Heat Treatment Congress, Chicago
• 11th China Forging Industry Exhibition 2014, 11th China (Shanghai)
• International Heat Treatment Expo 2014
• ACMA Automechanika, 2015, New Delhi
• Metal and Metallurgy China 2015
• World of Metal 2015
• MachAutoExpo 2015, Ludhiana
• ForgeFair 2015, Cleveland, USA.
• International Metal Technology Taiwan 2016
• IMTEX Forming and Tooltech 2016, Bangalore
• Die & Mould India International Exhibition 2016, Bangalore
• Industrial Revolution 2016, Hannover, Germany
• International Exhibition& Conf. on Engineering and Heat Treatment 2016, Navi Mumbai
• International Heat Treatment & Ind. Furnace Exhibition China 2017
• International Exhibition & Conference on Steel Industry-India Steel 2017, Mumbai
• ACMA Automechanika 2017, New Delhi
• IMTEX and ToolTech 2017, Mumbai
• Metal + Metallurgy China-2017, Shanghai
• Korea Metal Week 2017, Kintex, South Korea
• India Machine Tool Show 2017, New Delhi
• Automotive Manufacturing 2017, Bankok, Thailand
• Engimach-2017, Gandhinagar
• Automotive Steel Summit-2017, Pune
• International Forging Congress 2017, Hangzhou, China
• Heat Treatment Congress India 2017, Pune
• India Steel-2017, Mumbai
• Hannover-2017, Germany
• International Heat Treatment and Induction Furnace Exhibition-2017, China
• International Conference on Forging Technology-2017, Mumbai
• Metalex-2018 Thailand
• IMTEX and Tooltech-2018, Banaglore
• AMTEX-2018, New Delhi
• Internet of Things 2018, New Delhi
• EUROFORGE 2018, Berlin, Germany
• International Metal & Metallurgy Exhibition China 2018
• International Heat Treatment and Industrial Furnace Expo China 2018
• ComForge-2018, Rajkot
• MMMM-2018, New Delhi
• MTS & HTS-2018, Navi Mumbai
• AsiaForge-2019, Chennai
• World of Metal. Mumbai
• 25th Global Foundry Sourcing Conference 2019, China
• Machma Expo 2019, Ludhiana
• International Metal Technology 2019, Taiwan
• IMTEX and Tooltech-2020, Banaglore
• Iptex-Grindex 2020, Pune
• MachAuto Expo 2020, Ludhiana
• Steel Fab 2020, Sharjah. UAE
Editorial Board
FORGINGS TODAY is governed by Editorial Board which formulates policies, constructs frame work for execution, decides the broad content categories and helps in forging national and international linkages.
The Editorial Board is constituted of mainly mechanical, electrical and chemical engineers. The key members are:
Mr R.K.Jain
Mr. Jain is a Graduate in Mechanical Engineering from BITS Pilani and a Post Graduate in Business Management with over 30 years of experience in industry, consulting, data bases and publishing. In the area of data systems and publishing he has contributed to the following areas:
• Industrial Data System, both on print and electronic media, containing over 1000 tables covering industrial and economic data at both macro and micro levels.
• Management Research Publications in the form of books and journals
• MailerDisk – Communication details of engineering units on compact disc
• Technical Capabilities and Corporate Profiles: Details of forging units on Electronic Media in the form of Data CD.
• Market Forecast and Indicators for more than 300 products, a comprehensive analysis of a large number of industrial products in terms of their existing status and future demand.
• A comprehensive Research Report on Automobile Industry indicating present status, future potential and challenges.
Dr. Vasant Khisty
Dr Khisty is doctorate in Global Competitiveness of Auto Component Industry. He has hands on experience working at various levels in companies manufacturing forgings, automotive systems and construction equipment drive lines. He is well travelled and has held senior position in reputed organisations. Currently he is nurturing a consulting and research firm called Sammy consulting and is associated with global consulting firms, OEMS, forging companies to improve manufacturing efficiencies in order to be globally competitive.
Mr Prafull Sharadchandra Mokashi
Mr Mokashi is Ex-Secretary General of Association of Indian Forging industry (AIFI). A science graduate from Pune University, Mr Mokashi has played a significant part in the hugely successful International Forging Congress – IFC2011 – at Hyderabad, India between 13th and 15th November 2011. Earlier, he was instrumental in mounting a large delegation of 52 participants to the 3rd Asiaforge at Shanghai, China during September 2011. As Executive Secretary of the Indo-American Chamber of Commerce, Pune, he successfully arranged business meets for more than 250 visiting American companies.
Mr M.K.Jain
Mr Jain is B Tech in Electrical Engineering from IIT, Kharagpur and an MBA from FMS, Delhi University. He has served Engineers India Ltd and Kuwait National Petroleum Company. He is an expert in engineering piping, project execution and supply chain management of petroleum products to engineering sectors.
Mr K.L.Girdhar
Mr Girdhar is B Tech. in Chemical Technology from IIT, Delhi. He specializes in Production Planning, R & D, Operations, Process Design, Installation and Project Execution. He has been instrumental in developing heat treatment chemicals and processes for gas generation and forging plants.
Mr D G Chivate
Mr Chivate is B E Metallurgy from College of Engineering Pune. He has worked with majority of leading forging units in and around Pune like Bharat Forge , Kalyani Forge, Trinity Forge' Amtek, Western India Manasi Auto and Patheja Forgings for over last 35years. Presently working as a consultant in heat treatment, metallurgical laboratory, product quality enhancement, value addition, process improvement.
Mr Bikash Musib
Mr Musib is M. Sc in Engineering from MS Ramaiah School of Advanced Studies, Bangalore and PG Diploma in Forging Technology from NIFFT, Ranchi. He has rich experience in forging technology by virtue of his working tenure with Sangam Forging, Trinity Auto Components, APTEN Forging and Advanced Forming Technology Center. He specializes in tool design for metal forming, FEA analysis of metal forming and heat treatment processes & correlation with actual data.
Content Spectrum
Although the contents of a technical journal are as dynamic as the technology itself, a broad frame work has been designed to maintain the focus. The content spectrum encompasses the following areas:
Editorial Note and Pointers
Cover Feature and Highlights
Forging News and Latest Developments
Technology and Innovations
Organisations and Personalities
Exhibitions and Conferences
Data Analysis and Reviews
Glossary of Technical Terminology
Company Profiles and Product Characteristics
Distribution Strategy
FORGINGS TODAY is sent to its readers directly from its Publishing Head Quarters in Delhi to all over India through courier service. The present distribution chart by region looks like this: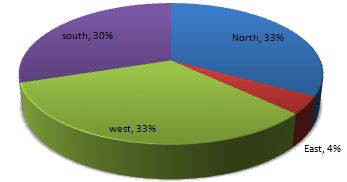 Esteemed Advertisers
Amancio Refrigeration Company, Vadodara
ASM International, Chennai
Bajrang Engineering, Rajkot
Beijing Hiven Exhibition Co., Ltd, Beijing
Bezel Industries Limited, New Delhi
CEC Exhibitions Pvt Ltd, Kottayam
Censico International Pvt. Ltd, Agra
Centro De Eventos Amrigs, Brazil
Chandekar Business Media Pvt. Ltd, Mumbai
Climax Overseas Pvt. Ltd, Gurgaon
Confederation of Indian Industry, Gurgaon
Dango & Dienenthal (India) Pvt Ltd, Kolkata
Deutsche Messe, Germany
DISA India Limited, Bangalore
Duxes Business Consulting Inc, Shanghai
Electrotherm (India) Ltd, Ahmedabad
EMT Megatherm Pvt Ltd, Kolkata
Expotim International Fair Organizations Inc, Istanbul
Ferrotherm Induction Pvt Ltd, Pune
Forging Industry Association, Ohio, USA
Forging Machinery Manufacturing Company, Ludhiana
Foundry & Forge Training Centre, Pune
Gaskon Engineers, New Delhi
GERB Vibration Control Systems Pvt Ltd, Noida
Hannover Masse, Germany
Hannover Milano Fairs Shanghai Ltd. Shanghai, China
Hannover Milano Fairs India Pvt Ltd, Mumbai
Hardcastle Petrofer Pvt Ltd, Mumbai
Hi-tech Industries, New Delhi
Indian Machine Tool Manufacturers' Association, Bangalore
Inductotherm (India) Pvt. Ltd, Ahmedabad
International Trade and Exhibitions India P Ltd, New Delhi
Interpower Induction Pvt. Ltd. Ahmedabad
ISGEC Heavy Engineering Limited, Yamunanagar
Kaigo Co., Ltd, Taiwan
Korea Trade Fairs Ltd, Seoul
Lasco Umformtechnik Werkzeugmaschinenfabrik, Germany
Laxcon Steels Ltd, Ahmedabad
Machinetools.com, Chennai
Maco Pvt. Ltd, Sonepat
Micromatic Machine Tools Pvt. Ltd, Bangalore
N.K.H Hammers Pvt Ltd, Ludhiana
Oilgear India Pvt. Ltd, Bangalore
Oxeeco Technologies, Hyderabad
Pacific Engineering Corporation, Mumbai
Patel Furnace & Forging P Ltd, Baroda
Pyramid International, England
Radical Communications, Ahmedabad
Rattan Hammers, Ludhiana
Reed Manch Exhibitions Pvt Ltd, Noida
Rollform Equipment Pvt Ltd, Noida
Sammy Consulting, Pune
Schuler India Pvt Ltd, Mumbai
SMS Elotherm, Thane
Stead Fast Engineers (P) Ltd, Faridabad
Steel Plant Specialities, Mumbai
Surface Finishing Equipment Company, Jodhpur
Techtronics (India) Limited, Gurgaon
Thermal Systems and Engineering, Chennai
Tools and Gauge Manufacturers Association, Mumbai
MPM Durrans Refracoat Pvt Ltd, Nagpur
Goel Steel Company, Chennai
Glama Maschinenbau GmbH, Germany
Wuhan Newwish Science & Technology Co. Ltd. Hubei, China
Supreme Induction, Pune
Kisco Castings India Ltd, Mandi Gobindgarh
Silini Press and Hammer Trade S.r.l., Italy
Sunlube India Pvt Ltd, Pune
Hitachi High-Technologies India Pvt Ltd, Singapore
Ventura Alloy and Steels Pvt Ltd, Mumbai
See Lube Technologies (P) Ltd, Ludhiana
TrueForge Global Machinery Corp., New York, USA
Tariff and Opportunities
Advertisement Tariff
Ad Location
Per Issue


(INR)

For 6 Issues


(INR)

Front Cover
75,000
3,75,000
Back Cover
60,000
3,00,000
Inside Front Cover
55,000
2,75,000
Inside Back Cover
50,000
2,50,000
First Opening Page
45,000
2,25,000
Page Facing Contents
40,000
2,00,000
Full Page
35,000
1,75,000
Half Page
20,000
1,00,000
Quarter Page
12,000
60,000
Horizontal Strip 6 cm ht.
12,000
60,000
The magazine size is 204x274mm and bleed size is 210x280mm. Advertisement creative to be sent in cdr/jpg/pdf format in 300 dpi or more.